Welcome to CRC Motorsports
Cory Crapser—a household name in Wissota—is utilizing his 15-plus years of racing in go-karts, Street Stocks, Midwest Modifieds and Modifieds to build a strong foundation for his newest venture as owner of CRC Motorsports.

CRC Motorsports is your number one source for Modifieds and Limited Modifieds. If you're looking to purchase a turn-key race car or update your current race car, CRC Motorsports is the race shop to contact.

CRC Motorsports is a dealer for GRT Race Cars and Larry Shaw Race Cars. In addition to chassis sales, CRC Motorsports is a complete speed shop for every racer. They sell Integra Shocks, Landrum Springs, Wehrs Machine products, American Racer and Hoosier tires, wheels and many other high quality race parts. They work closely with multiple shock builders to create the ideal shock package for the variety of race tracks that each driver races and can build a complete body for any chassis and division.
Drivers in the Modified, B-Mod and Midwest Modified divisions—like Michael Truscott, Jeremy Nelson, Cory Mahder, Mitch Weiss, Nick Koehler, Erik Kanz, Jim Morlock, Jason Halverson and Rick Delaine—know the dedication and attention to detail that make CRC Motorsports the premier race shop for their race car and parts purchases.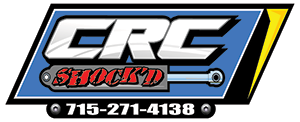 If you're looking to improve your race program for next season, it's time to join Club CRC.
CRC Motorsports drivers tallied more than 140 feature wins in 2015 at 33 different race tracks in eight states and Canada, collecting nine championships in the process. Thirty-seven different Club CRC drivers picked up wins in five sanctions.
Other highlights for Club CRC drivers included wins at the Fall Jamboree, World Modified Dirt Track Championship, Herbison Memorial, Topless Nationals, Al Delaine Memorial, Open Wheel Nationals, Fall Festival and Autumn Clash.
CRC Motorsports is located at 18177 51st Ave., Chippewa Falls, WI 54729. They offer shipping to customers by way of UPS and Spee-Dee, and most major credit cards are accepted. You can contact them by calling (715) 271-4138. Visit the website at www.crapserracing.com or email cory@crapserracing.com and follow them on social media with Facebook and Twitter.