Welcome to CRC Motorsports
Cory Crapser is a household name in Wissota racing, and the 33-year-old fabricator is utilizing his 15-plus years of dirt track racing experience to build a strong foundation for his newest venture: CRC Motorsports.
CRC Motorsports is your #1 source for Modifieds and Midwest Modifieds in Wissota country. Whether you're looking to get your hands on a turn-key race car or update your current ride, CRC Motorsports is your go-to race shop.

CRC Motorsports is a dealer for GRT Race Cars and Larry Shaw Race Cars. In

addition to chassis sales, CRC Motorsports offers a complete, robust speed shop that is right for every racer. The company also provides a full line of Wehrs Machine and Integra products, including wheels, springs, shocks and any other high-quality parts you need to win at an affordable price.
The team works closely with several of the industry's most respected shock builders to create the ideal shock package for the variety of race tracks each driver encounters.
Nick Koehler, Michael Truscott, Dylan Goplen, Jeremy Nelson, Mitch Weiss, Kevin Monteith, Jim Morlock, Ryan Olson, Rick Delaine and other successful competitors in the Modified, B-Mod and Midwest Modified divisions know the dedication and attention to detail that make CRC Motorsports the premier race shop for their race car and parts needs.
During the 2016 c

ampaign, CRC Motorsports drivers tallied more than 130 feature wins at 37 different race tracks in seven states and Canada, collecting 15 championships in the process. Highlights include breakout seasons for Jeremy Nelson and Nick Koehler. Respectively, they finished first and fourth in Wissota National points, won the Minnesota and Wisconsin state points championships, and picked up five track titles.
But the biggest win for the CRC Motorsports team was Michael Truscott's $20,000 triumph at the B-Mod Nationals at the Mississippi Thunder Speedway in Fountain City, Wis. Other noteworthy wins for CRC Motorsports mafia include the Race of Champions at the Wissota 100, Fall Classic, Northern Nationals, Red Clay Classic, Punky Manor Challenge of Champions, King of the Dirt, Harvest Cup, Dirt Track Nationals, Fall Shootout Nationals, Hatchet Nationals and Autumn Clash.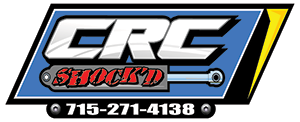 If you're looking to improve your race program for next season, it's time to join the team at CRC Motorsports. Our door is always open and our phone is always on.
CRC Motorsports is located at 18177 51st Ave., Chippewa Falls, WI 54729. CRC Motorsports offers shipping to customers via UPS and Speedee, and most major credit cards are accepted. You can contact Cory Crapser by calling (715) 271-4138 or email cory@crapserracing.com. For more information, visit the CRC Motorsports website at www.crapserracing.com and follow them on social media with Facebook and Twitter.